MEMORY LUXE PREMIUM
GRAPHENE PILLOW
Graphene is an allotropic form of carbon, it is a very hard, extremely resistant, very light and flexible material, which allows it to be moulded according to needs. Graphene is stronger than diamond, has an extraordinary conduction of heat, is a good conductor of electricity much better than copper.
Graphene is called the "material of the future," and it manifests abundantly in nature.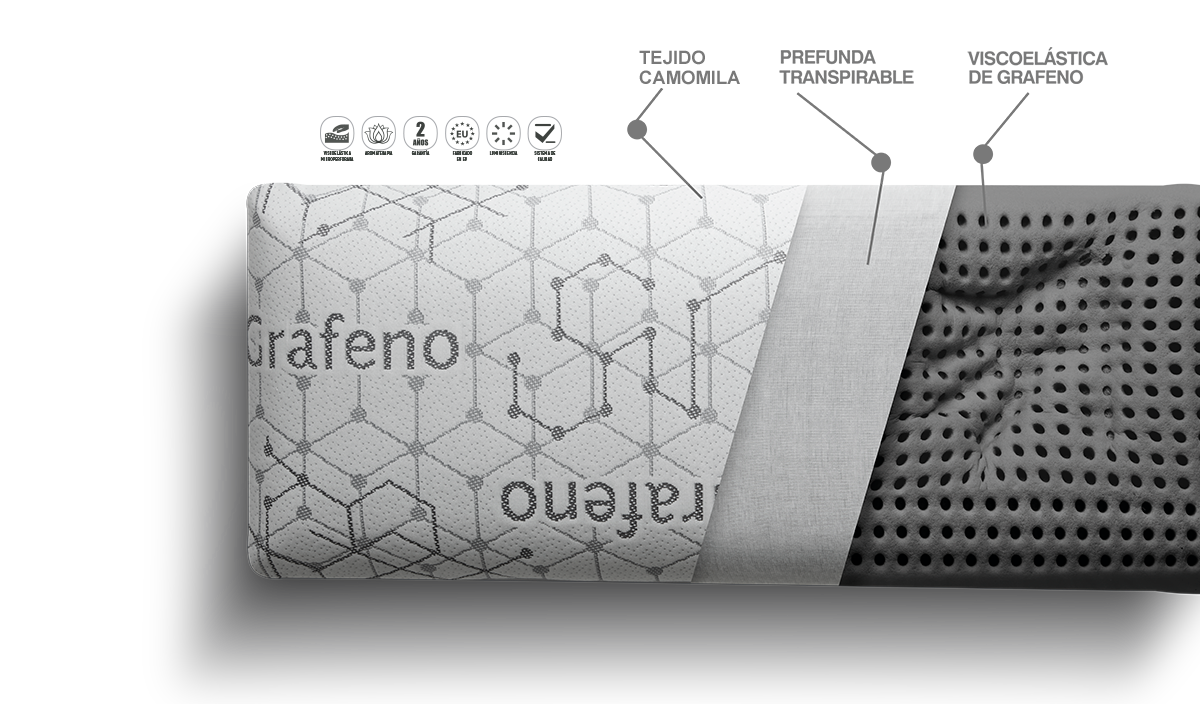 INTRODUCTION AND CHARACTERISTICS
A good night's rest plays a fundamental role in physical and mental well-being. Therefore, Lufthous® offers you a new proposal to improve your rest, and this time, does it in style. Introducing the new MEMORY LUXE PREMIUM GRAPHENE® pillow.
Using microperforated viscoelastic we obtain a natural reaction to the corporal temperature, adapting the exact form of the neck and the head, relieving the pressure exerted on the points of contact and favouring an anatomically correct position.
We have also incorporated a microperforated core with the aim of providing the best ventilation, also favouring thermal regulation during rest. 
It is important to note that our brand works with the best possible resources. Proof of this can be found in the interior design of the pillow; intelligent fabric (Strech) filled with BAYSCENT® microparticles (created by BAYER® laboratory). This type of finishing of the rest fabric prevents the formation of bacteria, also providing a greater sense of well-being during rest. 
Another novelty offered by the pillow that deserves special attention is its graphene foam core, a material that is characterized by being strong, but at the same time elastic, flexible, very breathable and thermal. Applying these qualities to the performance of the pillow we get a powerful ally during rest, even helping to reduce the static electricity produced during use.
Now all that's left is to settle in, close your eyes and rest like never before with the MEMORY LUXE PREMIUM GRAPHENE® pillow.
Once again, thank you for your trust.