TOPPER LH TURMALINK PROTECT®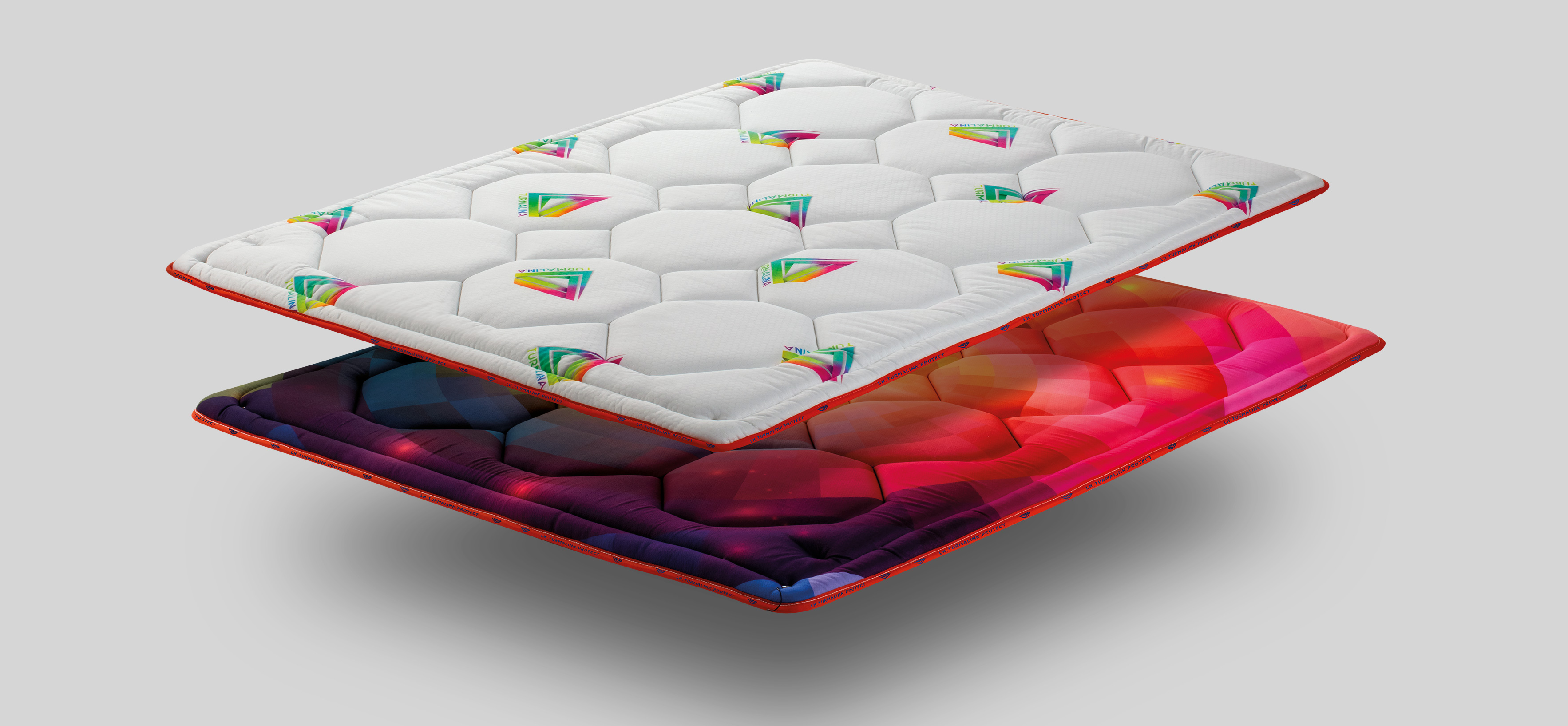 TOPPER LH TURMALINK PROTECT®
Lufthous® brings us one of his latest novelties for rest: TOPPER LH TURMALINK PROTECT®.
Its innovative smart fabric is made with the best raw materials. 
It boasts great novelties in the world of rest, among which we highlight the viscoelastic graphite and the fabric with Tourmaline that provides the best adaptive system to the body no matter your weight and height. Another great feature is the SUPER SOFT CARBON MEMORY.
In addition, it is reversible; on one side it is full of tourmaline microparticles and on the other it has bayscent® ACE treatment in Stretch fabric, covering the mattress with Vitamin A, C and E.
It has a different feel on each side, which allows us to use it as best suits our needs.
Thanks to the 4 TOPPER LH TURMALINK PROTECT® elastic bands, you will fit your mattress perfectly.
We are talking about a Premium range product, which brings important advantages to our daily rest: viscoelastic graphite (for greater adaptability), use of active carbon (to improve breathability and avoid bad odours), as well as an ergonomic and adaptable design.
Technical fabric specifications
The TOPPER LH TURMALINK PROTECT® technical fabric promotes the elimination of static electricity that accumulates in the body throughout the day. Thanks to the technical fabric and the connecting cable, we will be able to help eliminate that static electricity.
The TOPPER LH TURMALINK PROTECT® contains 10 black Tourmaline stones, which make up an ideal field for rest and well-being. These stones act on the entire Topper's rest surface. 
Tourmaline is a powerful energy channeller and transforms negative energy into positive and high frequency energy, recommended to achieve a state of well-being.
It is made with silver and copper carbon fibre fabric:
–Silver fibre.  Silver is capable of repelling harmful bacteria and fungi in a relatively short period of time and therefore reducing unpleasant odours and thanks to technical-scientific studies that have spread to the textile field, the silver fibre is used in state-of-the-art products to meet the growing demand for wellness and cleanliness. 
Silver is an element endowed with high thermal conductivity, therefore providing sufficient small quantities of fibre to dissipate the electrical loads. An advantage for the body that can efficiently dissipate tensions during sleep with a remarkable physical benefit. Good thermal conductivity keeps you warm in winter and cool in summer.
–Carbon fibre. Carbon fibre has high electrical conductivity, properties that allow to discharge the electrostatic charges accumulated by the body during the day. The environments in which we live are polluted by electrostatic and electromagnetic charges, carbon being a conductor that allows the dispersion of discharges. They also contribute to rejecting these charges, creating an element of importance against harmful elements and odours.
The outer perimeter. It is made using a composition of copper wire, whose function is to protect our rest area from negative electromagnetic energy, thus benefiting from a deeper and more pleasant rest.
Copper ball: Metallic ball through which, in contact with the ground, the negative energy is released. This ball contains an anti-return device inside it to prevent that negative energy from returning again. Signal duplicator: The base has a signal amplifier to eliminate static electricity more quickly. 
Cable with LED ANTI-RETURN: It is equipped with an electrostatic discharge ball with backstop protection. Thanks to its special design, the ball expels electrostatic contamination and guarantees the impossibility of return to the device. 
COMPOSITION TOPPER LH TURMALINK PROTECT®
1 – Padded custom cover
2 – 390 G TURMALINK fabric with luminescence
3 – Technical fabric
4 – Graphene viscoelastic padding 50 kg.
5 – TNT
6 – 250 gram fibre
7 – Super Soft Memory carbon
8 –  390 gram fabric Bayscent® ACE fabric with vitamins A, C, and E, and luminescence.