OZONE GENERATOR and ANION EMISSION
LH Desk Purify is an purifier and ozone generator capable of absorbing and decomposing different polluting elements present in the air; pollen particles, dust, bad smells, etc.
The combination of negative anions, ozone emission and ultraviolet light will help you effectively improve the cleanliness of the air around you.
At Lufthous® we are truly concerned about the environment that surrounds you. The air purifier and ozone generator LH Desk Purify has an advanced filtering system designed to trap different particles dispersed in the air that can be harmful to our well-being.
As soon as the device starts working, the ozone works and negative ions are emitted, which not only act against visible and microscopic particles, but also neutralise emissions generated by electrical devices and which reach us daily.
This equipment is designed to become an indispensable element in your day to day life; be it in your business, office or in your own home.
FEATURES AND BENEFITS
Lower rate of discomfort.
Enrichment of the environment.
Hygiene.
Helps customers to stay longer in clean premises.
Helps to increase work performance.
It is a powerful ecological cleaner.
Cleans, causing the elimination of harmful elements.
Neutralise the environment.
Properties:
Anti-harmful particles
Anti-pollen
Anti-dust
Anti-odour
Anti-dirt
Anti charged environment
BENEFITS OF OZONE (O3) EMISSION
Helps to clean the air inside your home and keep it free from dust, pollen, lint, harmful gases such as adhesives and unwanted particles.
It helps eliminate odours from bathrooms, kitchens, tobacco smoke, food odours and prevents electrostatic.
It helps to remove undesirable particles in suspension and any other unwanted particles present in the air.
It increases the content of negative ions in the room, highly recommended to improve the quality of indoor air and have a fresher and cleaner air.
Helps eliminate moisture and fungus
ULTRAVIOLET LIGHT
During its operation, LH Desk Purify emits Ultraviolet (UV) rays. This means that it attacks all kinds of visible and microscopic undesirable particles.
This application in the field of cleaning, is a revolution and an advance, due to its effectiveness.
SIMPLE TO USE
When the power button is pressed lightly, it changes from red to white, and the product enters the operating state. The same thing happens just by running your hand over it, it turns on and off with a simple gesture.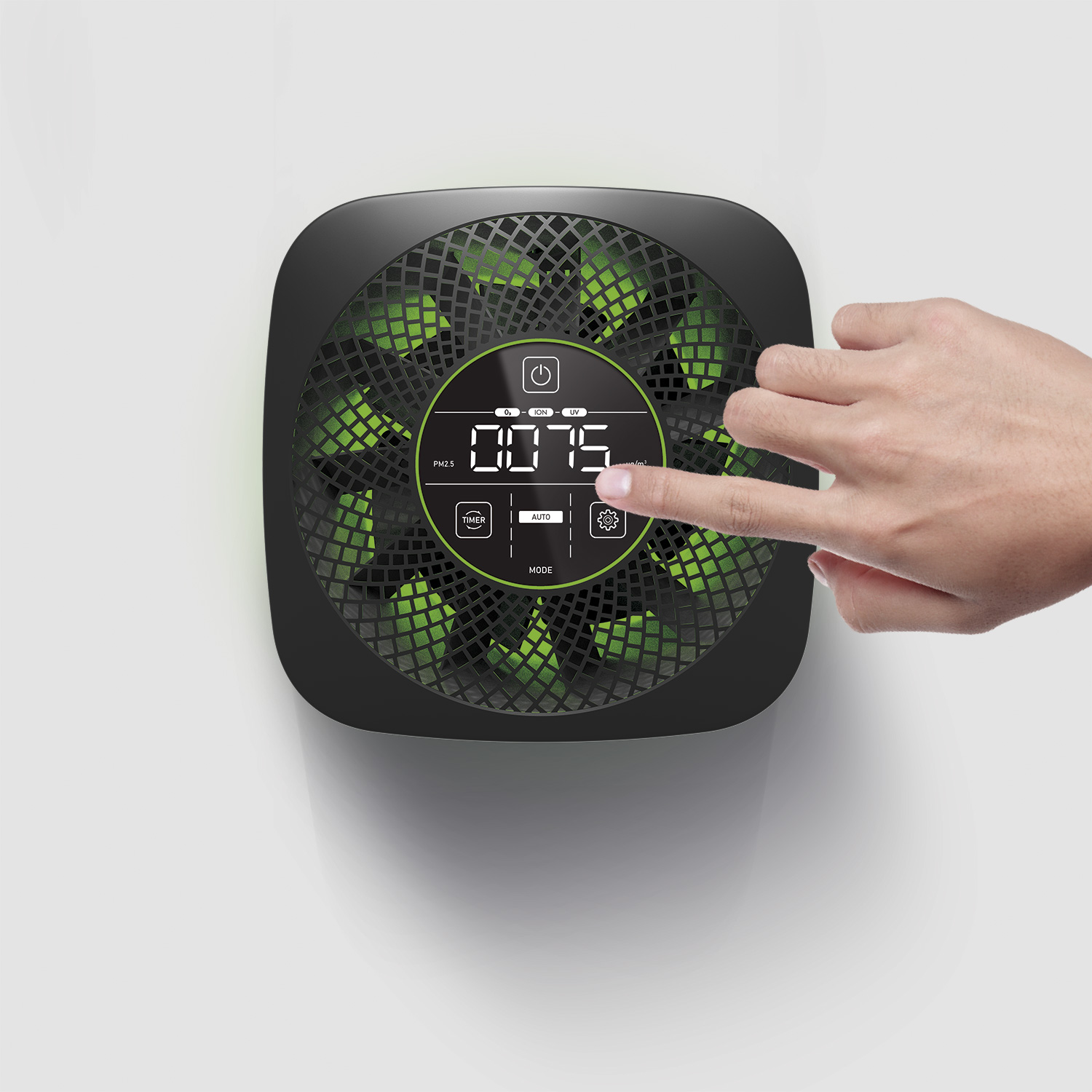 FILTER REPLACEMENT ALERT
When the remaining time of use of the filter is less than 168 hours, the timer button will appear in red to remind the consumer to replace the filter in time.
PM2.5 STATUS INDICATION*
*PM are particles per million and 2.5 are the particles that are floating in the environment (2.5 microns,) which are harmful to the respiratory system.
| | | |
| --- | --- | --- |
| PM2.5 status display | PM2.5 Index (μg/m3) | Air quality |
| Green | 0000-0075 | Excellent |
| Blue | 0076-0150 | Good. |
| Red | 0151-0999 | Contamination |
The product has a built-in PM2.5 laser sensor that monitors the PM2.5 index of the surrounding air in real time.
TECHNICAL SPECIFICATIONS
| | |
| --- | --- |
| Input voltage | DC12V |
| Power | 8W |
| CADR | 100 m3/h |
| Noise | ≤ 52 dBA |
| PM2.5 Real-time display | 0-999ug/m3 |
| O3 Ozone | 300 mg/h |
| UV | 2 mw |
| ION | 5*106 pcs/cm3 |
| Filter Grade | H11 |
| Energy efficiency Ratio | :> 12.5 |
| Filter Duration | 1500 hours |
| Room size | 60-70 m2 |
| Product net weight | 1,45 Kg |
| Product size | 180*180*298 mm |
Download file