THE ULTIMATE COOKING EXPERIENCE
AT A CLICK OF A BUTTON
MasterMix E-Touch is designed with elegance and simplicity, taking care of every detail to offer you the latest in revolutionary kitchen technology.
Includes 90 pre-installed recipes and you can expand your recipe book thanks to its WIFI connection.
TOUCH SCREEN
MASTERMIX E-TOUCH HAS A BUILT-IN 7-INCH LED TOUCH SCREEN.
Intuitive and easy to use.

Access the recipes.

Select functions.

Full configuration.
CHOOSE HOW YOU WANT TO COOK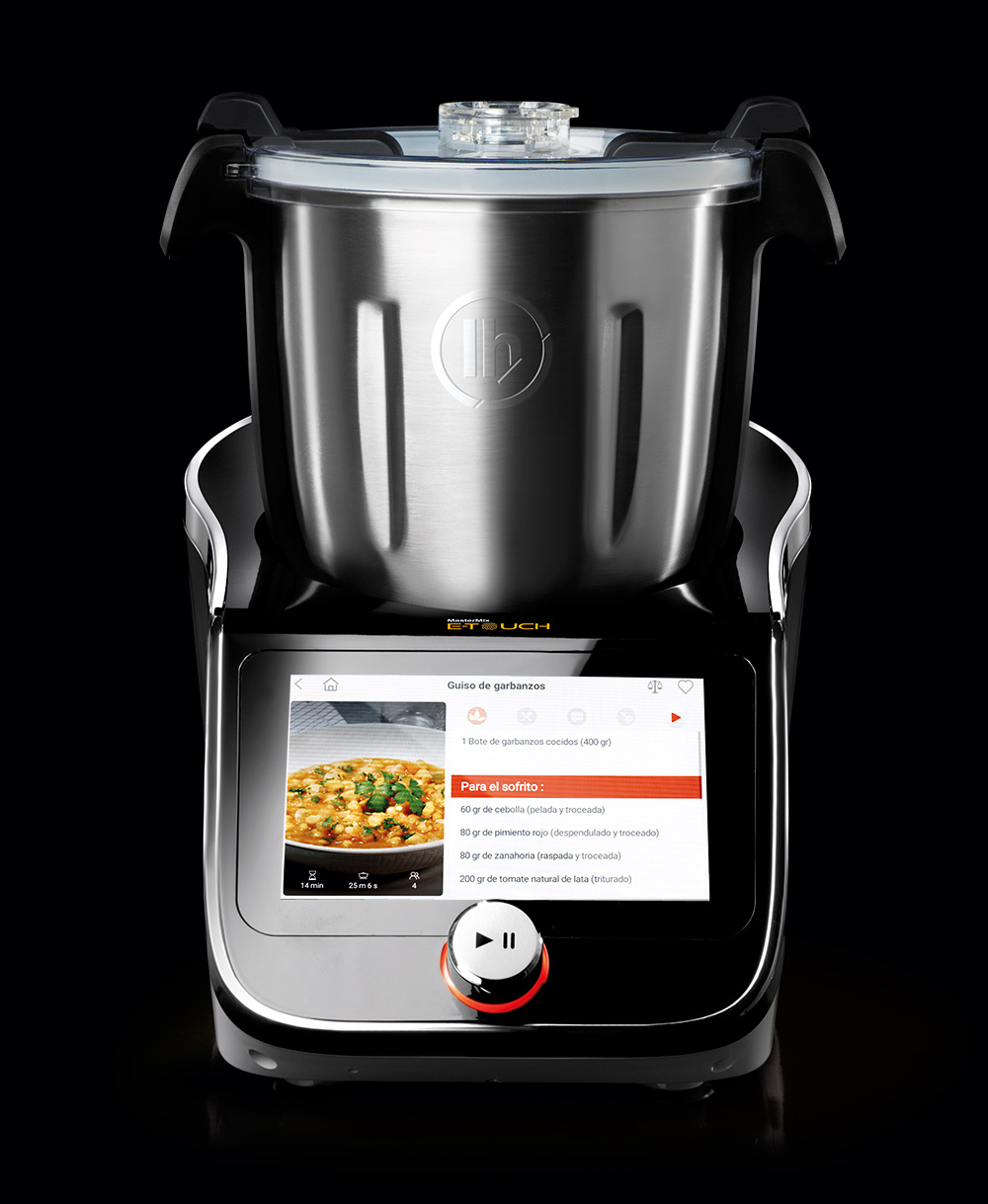 With its innovative Guided Recipes system you will be able to prepare recipes in an easy and didactic way with detailed information and advice from the chef; or cook freely at your own pace with its Manual Cooking system..
You can also choose from 8 automatic programmes:
COMPLETE SET OF ACCESSORIES FOR

UNBEATABLE RESULTS:
1-
4,5L Pitcher
2-
Cover
3-
Measuring cup
4-
Double-sided cutting disc
5-
Stirring paddle
6-
Spatula
7-
Steam basket
8-
Deep, flat steam basket
9-
Blades
10-
Whisk attachment
THE MOST COMPLETE COOKING EXPERIENCE
Vanguardia y tradición: you will be able to prepare the most exclusive dishes, without forgetting the most traditional cuisine.
WIFI connectivity.
12 different speed levels (including TURBO speed).
3 cooking modes: guided recipes, manual cooking and automatic programmes.
8 automatic programmes:
• Knead
• Steamr
• Simmer
• Boil
• Food processing
• Chop
• Turbo
• Weigh
MASTERMIX E-TOUCH RECOMMENDATIONS:
Base recipes for all kinds of preparations: broths, stir-fries, cream whipper, egg white whisk…

Sauces and dressings: hot or cold.

Vegetables: sauces, salads, crudités, en papillote or in stir-fries.

Brothy rice dishes: for garnishes or risottos.

Pasta: in all its variations and trimmings.

Meat and fish: stewed, in a sauce, steamed…

Vegetable creams: fine creams and delicate textures, courgettes, leeks, pumpkin…

Pulses: stewed lentils, white beans with clams, chickpea stews…

Dough: bread, pizzas, pies, focaccia…

Pastries: brioches, filled rolls, muffins, regional sweets, Christmas sweets…

Desserts: ice cream, rice pudding, flan, custard…

Juices and smoothies: fruit juices, detox smoothies, chocolate smoothies…

Jams: orange, peach, plum…

Steam cooking: meat, fish, seafood, shellfish, molluscs, vegetables…

International cuisine: the most important recipes from all countries.

Baby food: first purées with vegetables, meat, fish…

Desserts and snacks for babies: fruit purées, yoghurts…
· Heating capacity: 1,000 W.
· Mixing power: 1,000 W.
· Container capacity: 3,0 L/4,5 L (Max.).
· Temperature range: Up to 120 ºC – 130 ºC
· Voltage: 220-240 V.
· WIFI frequency: 2400~2483.5 MHz.
· Maximum WIFI transmission power (with antenna) 20dBm – Antenna 2.0 dbi.
· Power cable length: 1.3 m.