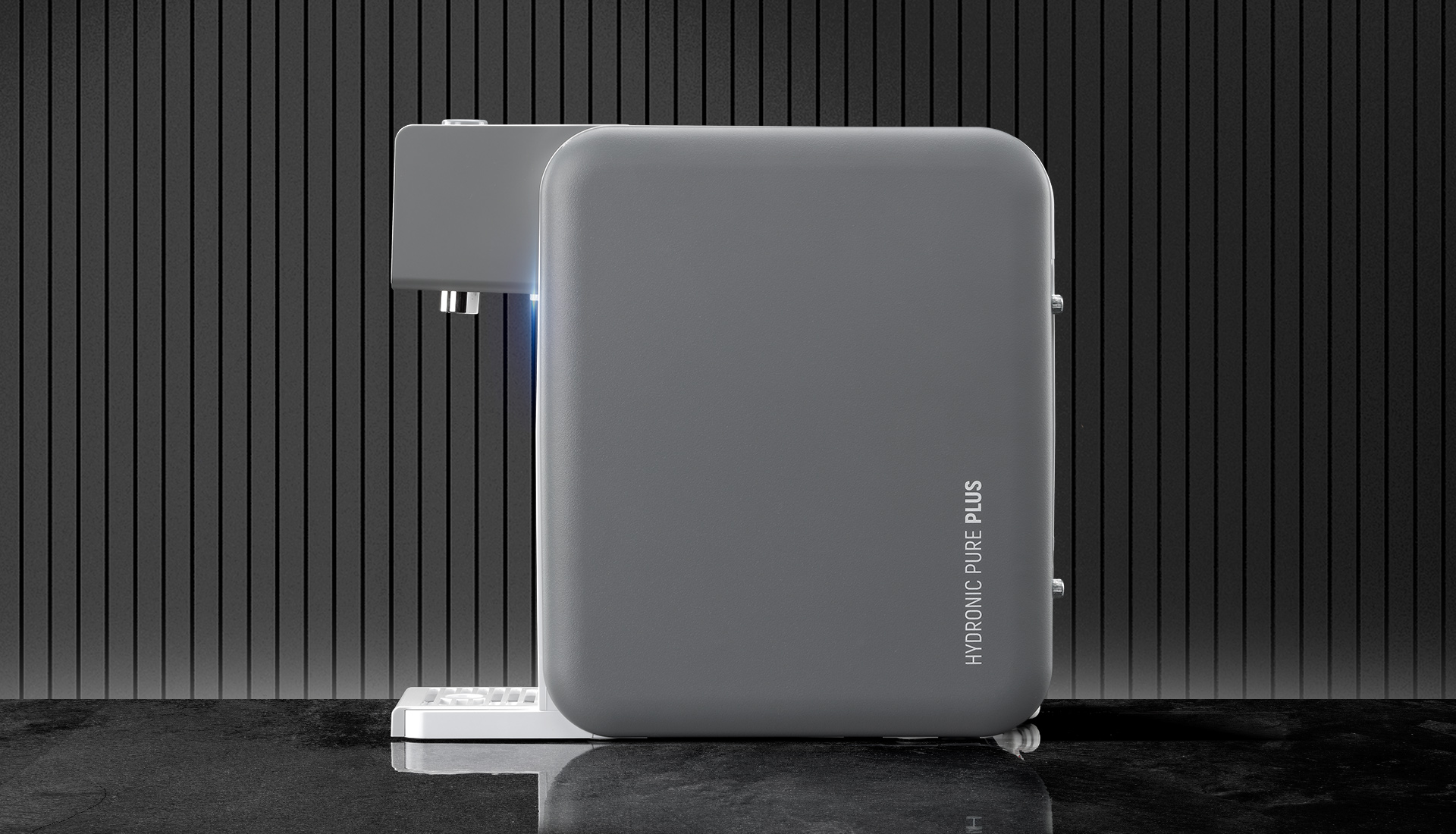 Nature gives us everything we need; air, the food we eat, and of course, water, the element that gives life.
Just imagining a natural place with crystalline waters and we can already feel a true well-being in our interior. This element flows in our environment, and also in ourselves, endowing us with the vital energy that we need to survive.
Given the importance that water has for us, I am pleased to tell you about the new device of the Lufthous® brand; HYDRONIC PURE PLUS.
This instrument is specifically designed to provide an unlimited supply of hydrogen rich water for your consumption. You might be wondering what benefits this will have for you; it is very simple. HYDRONIC PURE PLUS uses the same procedure with which nature purifies water, through movement, natural curves and energy vortexes, to add oxygen, minerals and energy. This translates into dramatic improvements in the properties of the treated water. You will see how this can help to improve your well-being through daily use.
Once again Lufthous® puts an instrument of amazing and innovative characteristics at your fingertips. Its use is basic and simple.
HYDRONIC PURE PLUS is more than a waterpurifier, it is a hydrogen-enriched water generator. With ultrafiltration membrane and carbon pre-filter. With it, you will enjoy water that is richer in hydrogen and has a hexagonal molecular structure (like that found in nature).  Improves the quality of water consumed. In addition, it reduces alkalinization, ORP.
HYDROGENATED WATER; THE ELEMENT OF THE FUTURE
The antioxidant power of Hydrogen is so powerful that it helps eliminate free radicals, which are guilty of premature ageing at all levels.
In addition, Hydrogen is able to penetrate where other antioxidants cannot reach to produce energy through oxygen.
Hydrogenated water provides antioxidants to help our body to convert food into energy because if we have a high oxidation level, our body would not generate energy on its own, so avoid further oxidation.
In summary…
Helps to combat free radicals
Helps to regulate oxidation and pH levels
Also, in this way:
Acts against free radicals
Helps to balance oxidation and PH levels
Helps you improve physically and mentally
LUFTHOUS® QUALITY
After years of work and effort, we have proven to be a benchmark of innovation, commitment and quality.
Each of our devices is the result of numerous investigations and conscientious field work. Only then, we can guarantee that you enjoy fabulous benefits and advantages in your own home that we could only dream of before.
All this wouldn't be possible without your trust. Thanks to you, our project grows and moves in the right direction.
What is our main objective? Your satisfaction. For this reason we thank you once again for the support and trust you have placed in each of our projects.
To a future together. To a better future.
TECHNICAL SPECIFICATIONS
Model: HYDRONIC PURE PLUS.
Consumption: 65 w.
Hydrogen concentration: up to 1,000 ppb.
ORP: -450 to -580 mv.
Working temperature: 5º C ~ 40º C.
Working pressure: 0.2 ~ 0.4 Mpa.
Product weight: 4.5 kg.
Measurements: 340 x 119 x 363 mm.
Input and output voltage: 100~240V / 50~60Hz.
Inlet water pressure: 0.5 mpa.
Filter: Activated carbon cartridge.
Membrane type: Ultra-filtration model.
Flow detector