Water is an indispensable element; not only for the human being, but also for the rest of the beings around us.
Our project has extensive experience; many years of work, putting technology at the service of innovation, but following a strict approach to sustainability. We are proud to introduce you to the new OKO OZEAN PLUS. 
With this modern device, you will apply active oxygen to the water you use for general cleaning of your home (floors, countertops, bathrooms, dishes and cutlery, clothes, pets…).
After a simple installation you will enjoy the properties that OKO OZEAN PLUS gives to the water you use. 
No more detergents or other negative elements for you and the environment. In this way, not only will you contribute to enormous economic and energy savings, but you will also promote the sustainability of the environment around you.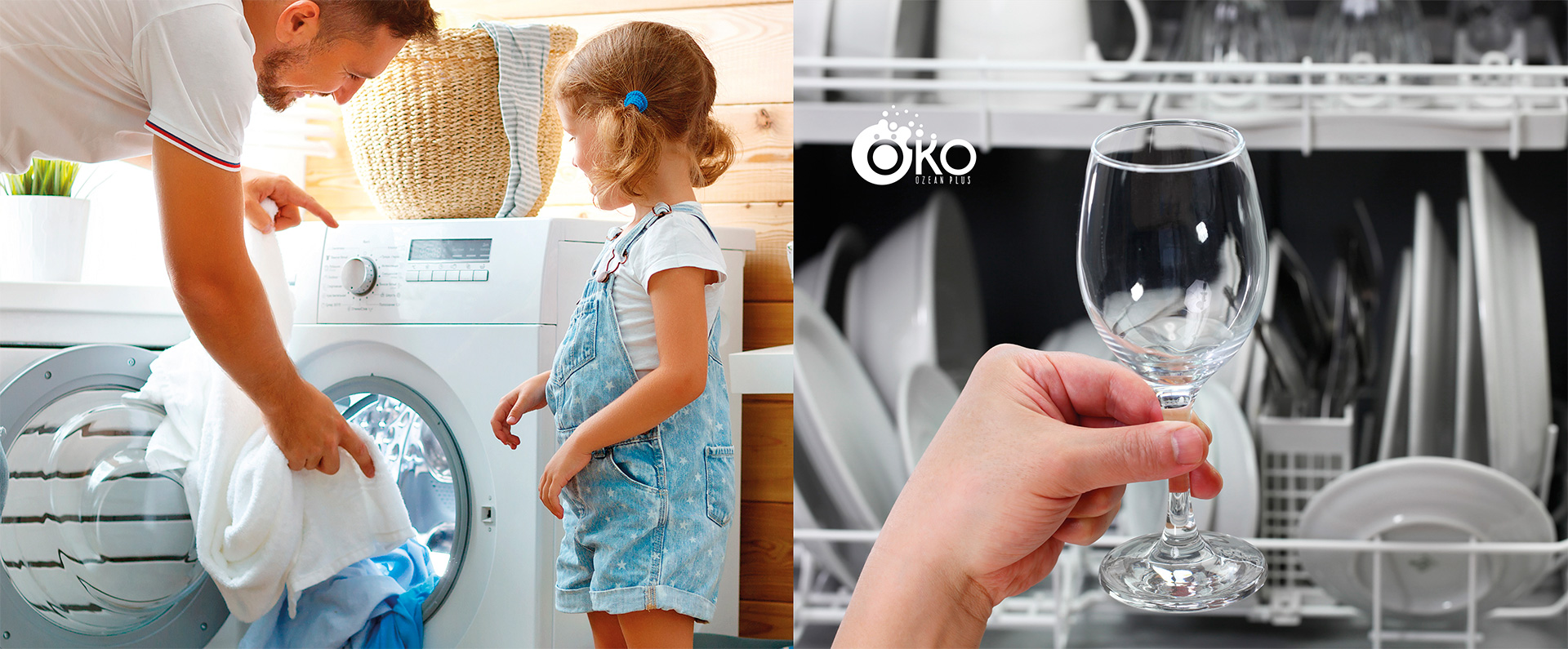 USE IN WASHERS
Applied in your washing machine, the water treated with active oxygen achieves incredible results. Every time you use it, you will be contributing to a better elimination of non-desirable elements that might be in the fabrics. 
Especially recommended for people with skin complaints.
In addition, thanks to the properties that the treatment confers to the water, your clothes will look better; more intense colours, whiter whites… Also it helps you to eliminate the typical smells of the use and the dampness. No detergent, no fabric softener!
THE NEW CLEANING SOLUTION
Save Money.

Fast, Efficient and without Detergents.

Good for your Well-being and the Environment.
SAVINGS:
Eliminates 100% of detergents.

 

With cold or hot water up to 40ºC

 
ZERO WASTE:
No chemicals.

 

Without damaging the environment.

 

No heavy plastic containers.

 
WELL-BEING:
Removes 99% of the dirt elements.

 

Suitable for use by people with skin complaints.
Reduces superficial wrinkles on clothing.
PAMPER YOUR CLOTHES: 
 

More intense colours.

 

 

Whiter whites.

 

 

Eliminates bad odours.

 

 

No detergent, no fabric softener.

 
THE NEW CLEANING SOLUTION, MAKE A COMMITMENT TO THE ENVIRONMENT
TECHNICAL SPECIFICATIONS
Name: OKO OZEAN PLUS
Model: G3
Electrical input: AC 100-240V/50-60Hz
Electrical output: DC 12V 3A
Water pressure: 0 psi ~100 psi
Operating temperatures: With cold or hot water up to 40ºC 
Product size : 47×23,8×8 cm
Net weight: 3 kg approx.