PHARMAVISCO 3D CARBON MATTRESS
" Getting adequate sleep is essential for proper daily activities, allowing us to meet our daily responsibilities and live in the best way possible. Therefore, a good rest is not only advisable, but essential.
The new PHARMAVISCO 3D CARBON mattress is equipped with the best technology in the field of rest, and thanks to the excellent work done by LuftHous, you can enjoy the best performance ever seen in your home.
You can wake up every morning with more energy, more alertness and especially a healthier aspect, both inside and out.
The use of materials such as activated carbon foam or memory foam and super Soft make this product an excellent example of innovation and cutting edge technologies.
Do not miss the opportunity and get the rest you deserve. LuftHous designs the future for you to enjoy today."
– A revolution in the world of rest: Finally, we have access to the mattress we really need. This is a revolutionary new product, with greater strength and durability (thanks to its viscoelastic material), hypoallergenic and antibacterial, and also perfectly fits our body temperature.
The PHARMAVISCO 3D CARBON mattress is a marvel of cutting-edge engineering, free of petroleum-based components, which have been replaced with vegetable-based products. This results in a more natural mattress and, therefore, provides the most hygienic, ecological and healthy sleep.
– The key to a better life: Usually people sleep less than we need, either due to work, stress or our way of life. It is therefore very important that the hours we spend at rest are as fruitful as possible. The PHARMAVISCO 3D CARBON mattress significantly improves our quality of sleep, providing excellent results for our well-being (reduction of physical discomfort and greater feeling of relaxation and vitality, among others).
For those who suffer discomfort in the lower back or stiffness, neck or shoulder discomfort, or others. Undoubtedly, this is the solution you need. 
Improve your quality of rest and vitality thanks to PHARMAVISCO 3D CARBON!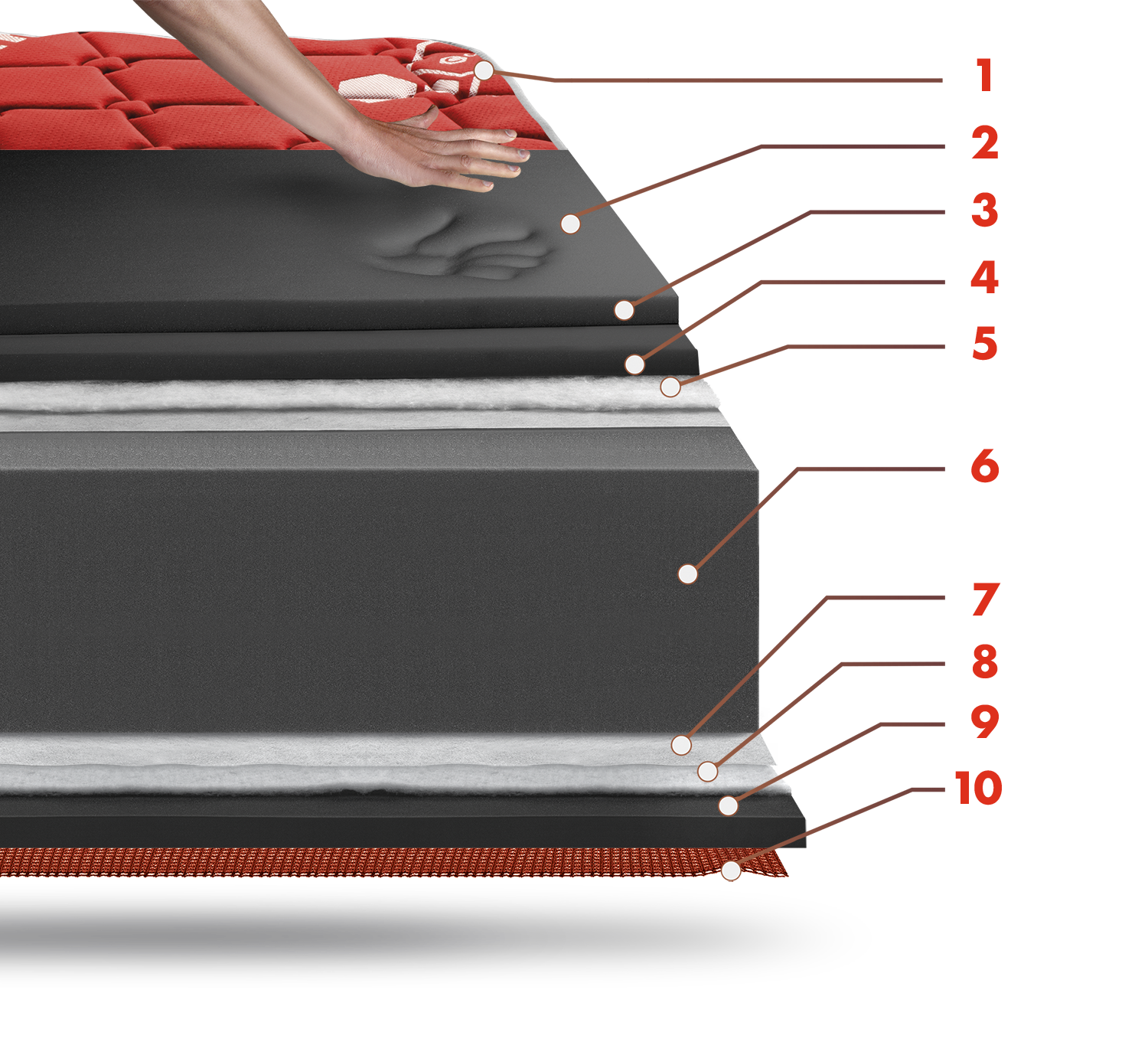 1 – STRETCH FABRIC 280 GRAMS
2 – CARBON MEMORY FOAM
3 – SUPER SOFT CARBON FOAM
4 – WADDING 250 GRAMS
5 –  TNT
6 –  HIGH INTENSITY CARBON BIOCELL. CORE
7 –  TNT
8 –  WADDING 250 GRAMS
9 –  SUPER SOFT CARBON FOAM
10 –  BREATHABLE 3D FABRIC
A next-generation finish: The finish is a work of engineering and is developed with the best raw materials. Its 3D mesh allows the mattress to receive the best indoor ventilation. This together with its multi-padded layers and its new fabric system, gives you the best breathability and hygiene you need for your daily rest.
LuftHous designs the rest you need: At its base layer, this mattress has a structure with greater firmness; better securing the body weight. The intermediate layer is ergonomic and responds to the pressure of each body part and the top layer is an adaptation layer corresponding to the body temperature to achieve unparalleled comfort.
Viscoelastic and supersoft with active carbon: By combining such complete material, such as viscoelastic, and another that prevents the formation of mold, such as active carbon, we have created a product that will allow us to extend the life of our mattress and improve the quality of your rest by means of an ergonomic and antibacterial mattress. 
Además, gracias al carbono activo capta y elimina los malos olores ayudando a evacuar el exceso de electricidad estática corporal, facilitando la relajación y proporcionándonos un sueño más reparador y profundo.
Tejido 3D: Este tejido está diseñado para obtener la máxima ventilación e higiene en zonas de contacto personal. Su uso estaba destinado en un principio al ámbito hospitalario, pero gracias a su industrialización, podemos disfrutarlo en nuestro propio hogar.
Su tejido trenzado tiene dos capas que están conectadas a través de millones de fibras de poliéster, y de esta forma, nos proporciona la mejor comodidad, manteniendo el equilibrio perfecto entre estabilidad y elasticidad, a la misma vez que regula el aire y la humedad.
Cromoterapia: LuftHous destaca por la innovación que desarrolla en cada uno de sus productos. El color del colchón FARMAVISCO 3D no es una decisión tomada al azar, si no que su elección está basada en la cromoterapia (conocida también como la terapia del color). Se trata de un tipo de terapia muy utilizada en medicina alternativa, y cuyo objetivo es la mejora de ciertas molestias a través del uso de colores.